Reaching 50 years of marriage is a momentous occasion that deserves to be celebrated. If you know someone who's approaching their golden anniversary, finding the perfect gift can be a challenge. You want to honor the couple's enduring love with a meaningful present that they'll treasure for years to come. That's why we've put together a list of gift ideas for 50th wedding anniversary to make the process easier for you. Regardless of your budget or the couple's preferences, we've got you covered with our suggestions for golden anniversary gift ideas.
Unique 50th Anniversary Gifts
A 50th wedding anniversary is an exceptional milestone that requires a unique and memorable gift to celebrate it. If you're searching for the perfect present that will express your love and admiration for the golden couple, consider the following unique and creative ideas:
1. Personalized Photo Album
A photo album is a perfect way to capture and preserve the cherished memories of a couple's 50 years of marriage. Personalize the album cover with the couple's favorite photo and add special captions to each picture to make the gift even more meaningful.
2. Couple's Massage
After 50 years of navigating life's ups and downs together, a relaxing couple's massage is an ideal way for the couple to unwind and enjoy each other's company. Choose a spa that offers special anniversary packages to make the experience even more memorable.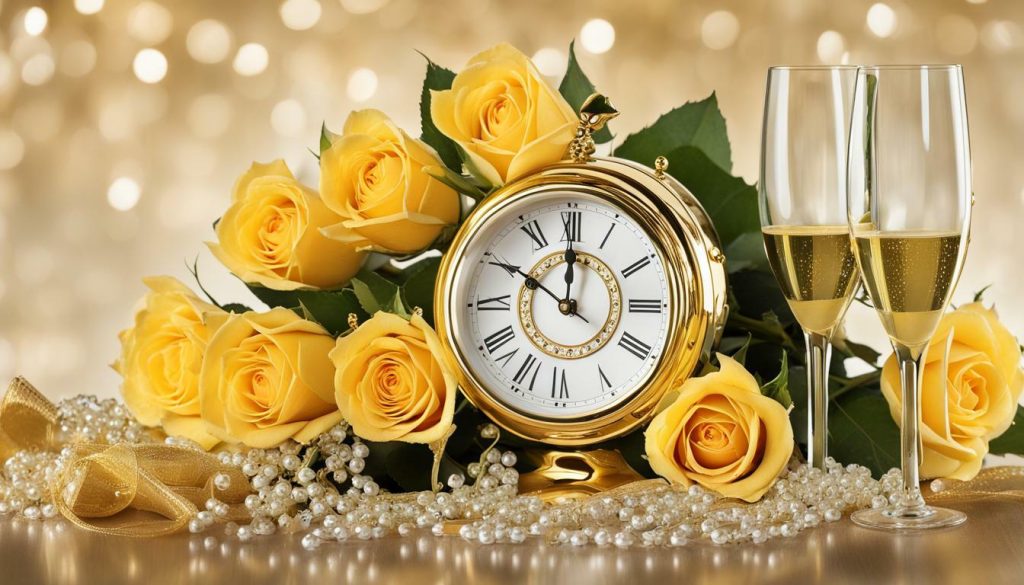 3. Customized Wall Art
Commission a one-of-a-kind piece of art that commemorates the couple's love story. Whether it's a painting or a sculpture, a customized artwork can be a beautiful addition to their home and a reminder of their enduring bond.
4. Romantic Getaway
Surprise the couple with a romantic getaway to a destination they've always wanted to visit. This can be a weekend trip to a nearby bed and breakfast or a more elaborate vacation to a dream location. A change of scenery can be a fantastic way for the couple to recharge and create new memories together.
5. Memory Jar
A memory jar is a sentimental and unique gift that allows the couple to cherish their favorite moments together. Simply fill a jar with small notes that capture special memories or significant milestones from their 50 years of marriage. It's a gift that keeps on giving as the couple can continue to add to it over the years.
With these unique gift ideas, you're sure to create a lasting and memorable impression on the golden couple's 50th anniversary. Make their special day unforgettable with a thoughtful and meaningful present that truly celebrates their love and commitment.
Traditional 50th Wedding Anniversary Gifts
A 50th wedding anniversary is a significant milestone and a testament to a couple's love and commitment. Traditional gifts for a golden anniversary often include items that symbolize the couple's enduring bond.
One of the most popular traditional gifts for a 50th wedding anniversary is gold jewelry. Whether it's a necklace, bracelet, or ring, gold represents the strength and value of a relationship that has stood the test of time.
| Traditional 50th Wedding Anniversary Gifts | Symbolism |
| --- | --- |
| Gold jewelry | Strength, value |
| Engraved photo frame | Memories, love |
| Gold-plated champagne glasses | Celebration, luxury |
Another traditional gift idea for a golden anniversary is an engraved photo frame. This serves as a beautiful reminder of all the memories the couple has shared over the years, and the love that has kept them together.
Gold-plated champagne glasses are also a popular gift for a 50th wedding anniversary, symbolizing a celebration of the couple's love and commitment. This luxurious gift will surely make the couple feel special and loved on their special day.
No matter what traditional gift you choose for a 50th wedding anniversary, it's important to remember that the most meaningful present is one that comes from the heart, reflecting the joy and gratitude you feel for the couple's enduring love.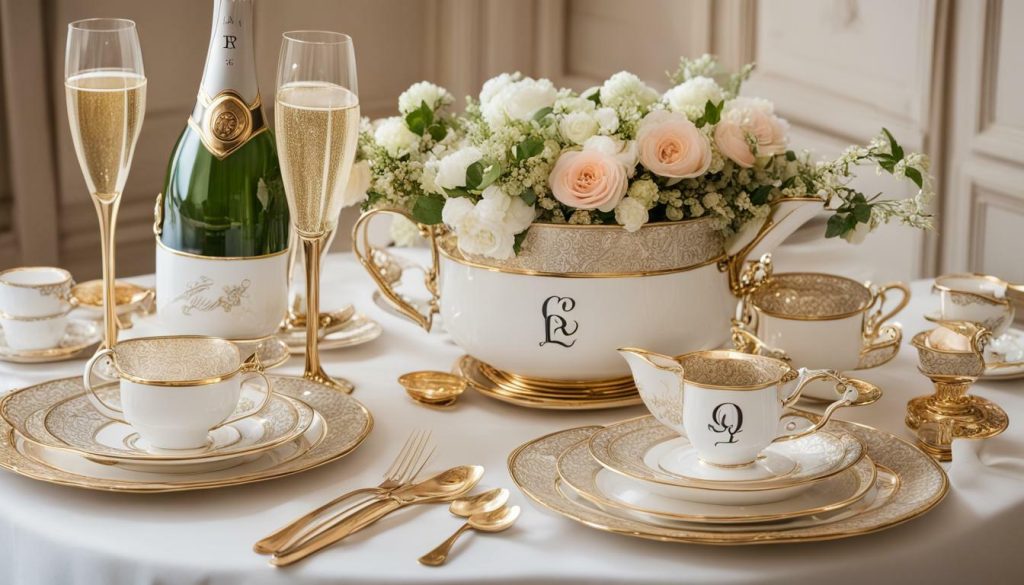 Creative 50th Anniversary Gift Ideas
Celebrate the golden milestone with a truly unique and creative gift that will leave a lasting impression. Here are some out-of-the-box ideas that will make the couple's 50th anniversary extra special:
Customized Photo Book
Compile a collection of the couple's most cherished memories in a customized photo book. Add personal captions and sweet messages to make it a truly personalized keepsake. This gift will not only honor their past but will also create new memories as they look back on it together for years to come.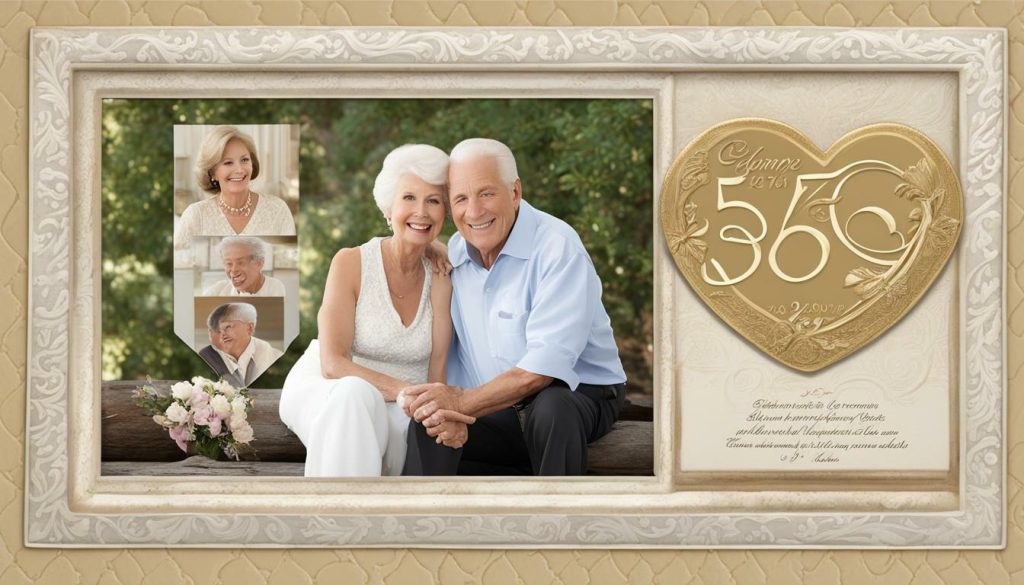 Personalized Wine Glasses
Toast to 50 years of love with personalized wine glasses. You can engrave the couple's names, wedding date, or a special message on the glasses. Pair it with a bottle of their favorite wine for a truly memorable gift.
Handwritten Love Letter
Put pen to paper and write a heartfelt love letter to the couple. Share your favorite memories of them and how their love has inspired you. This gift will show them how much they mean to you and remind them of the impact their love has on those around them.
Painting of Their Home
If the couple has lived in the same house for many years, consider giving them a painting of their beloved home. Find a local artist who specializes in house portraits and commission a piece that will capture the essence of their home and the memories they've created there.
Subscription Box
If the couple loves trying new things, a subscription box can be the perfect gift. There are subscription boxes for every interest from cooking to gardening to wine-tasting. Choose one that fits their interests and sign them up for a year-long subscription. Every time they receive a box, they will be reminded of your thoughtful gift.
Get creative and think outside the box when choosing a gift for a 50th anniversary. The most important thing is to show the couple how much their love and commitment mean to you.
Personalized 50th Anniversary Gifts
When it comes to celebrating a 50th wedding anniversary, personalized gifts are the perfect way to add a special touch to the occasion. From sentimental keepsakes to practical items with a personal touch, there are endless options to choose from.
One idea is to create a custom photo album featuring pictures from throughout the couple's 50 years of marriage. Selecting a meaningful cover and designing the pages with personalized captions and messages will make the album a cherished keepsake for years to come.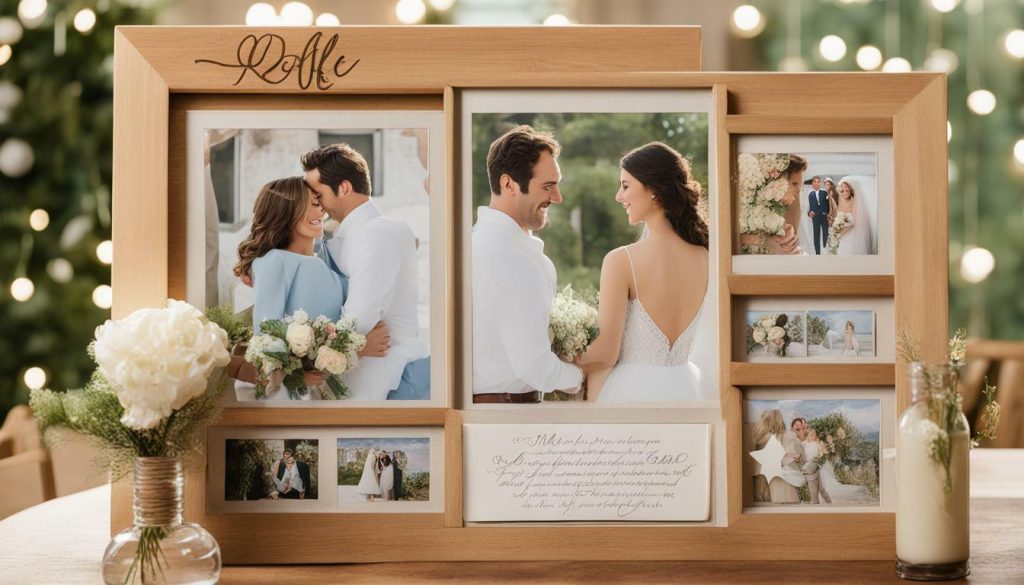 Another option is to gift the couple a personalized piece of art or decor that highlights their love and experience. This could include a custom-made canvas print featuring their wedding song lyrics or a decorative item engraved with their names and anniversary date.
If the couple enjoys a particular hobby or interest, consider gifting them a personalized item that reflects their passion. For example, a monogrammed golf club set or a custom guitar pick featuring their names and wedding date would be a thoughtful and unique gift.
Whether it's a sentimental keepsake or a practical item with a personal touch, a personalized gift is a meaningful way to celebrate a 50th wedding anniversary and honor the couple's enduring love.
Golden Anniversary Gift Ideas for Every Budget
Whether you're searching for extravagant or thoughtful presents, our list of 50th anniversary gift ideas has you covered. We understand that every budget is unique, and that's why we've curated a range of options suitable for all financial means.
For those who want to go all-out, a luxurious vacation or a piece of fine gold jewelry is a great option. Nothing says "I love you" like a romantic getaway or a stunning piece of jewelry that will remind the couple of their love every time they wear it.
For those on a moderate budget, consider personalized keepsakes that highlight the couple's love story. A customized photo album or a personalized piece of artwork can capture the cherished moments they've shared over the last 50 years.
For those on a tight budget, thoughtful gestures and handmade gifts can still make a big impact. Cook the couple's favorite meal, create a scrapbook with cherished memories, or even offer to take care of chores around the house for a day. These sentimental gifts show the couple how much you care, regardless of the price tag.
| Budget | Gift Ideas |
| --- | --- |
| Luxury | A romantic getaway, fine gold jewelry, customized artwork |
| Moderate | Personalized photo album, engraved keepsakes, couples' spa day |
| Tight | Handmade gifts, home-cooked meal, chore-free day |
Remember, the most important part of a 50th wedding anniversary gift is that it comes from the heart. No matter the budget, a thoughtful and meaningful gift will always be appreciated.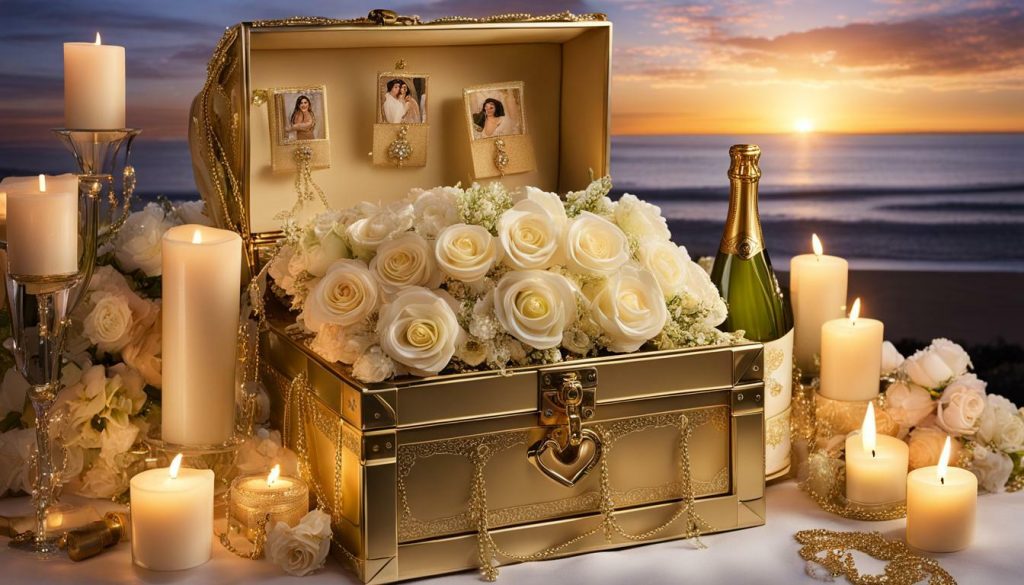 Tips for Choosing the Perfect 50th Anniversary Gift
Celebrating a 50th wedding anniversary is a momentous occasion, and choosing the right gift is essential to honor the couple's love and commitment. Here are some helpful tips to guide you in finding the perfect present:
Consider the couple's interests: Take into account the couple's hobbies, passions, and preferences. If they enjoy traveling, consider a weekend getaway or a personalized travel map. If they are music lovers, a vinyl record player or concert tickets could make thoughtful gifts.
Think about the significance of the golden milestone: A 50th wedding anniversary is a unique and special occasion. Consider gifts that celebrate the couple's journey, such as a photo album or a personalized anniversary book.
Choose a meaningful and sentimental gift: A sentimental gift can create lasting memories and remind the couple of their love for each other. Consider something symbolic of their love, such as a piece of jewelry that represents their commitment.
Personalize the gift: Personalized gifts add a special touch and show that you put thought and effort into finding a meaningful present. Customized items such as engraved wine glasses or a monogrammed quilt can make great gifts.
Consider the budget: Gifts don't have to be expensive to be meaningful. Set a budget and look for gifts that fit within your means. Handmade gifts, like a scrapbook or a home-cooked meal, can also be thoughtful and memorable.
Remember, the best gift is one that comes from the heart. Keep in mind the couple's interests, the significance of the occasion, and your budget, and you're sure to choose a gift that the couple will cherish for years to come.
Conclusion – Celebrating 50 Years of Love
As we conclude this article, we hope that our suggested gift ideas have inspired you to celebrate a 50th wedding anniversary in a meaningful way. This milestone is a testament to the enduring love and commitment of the couple, and it deserves to be commemorated with a special gift.
Remember, the perfect gift doesn't have to be expensive or grand. It should simply reflect the couple's journey and the memories they have created together over the past 50 years. Whether it's a personalized keepsake or a thoughtful gesture, your gift will undoubtedly be appreciated and cherished.
We encourage you to browse through our list of traditional, unique, and creative 50th anniversary gift ideas, all tailored to fit different budgets. Remember, the most important thing is to celebrate the occasion with love and joy.
So go ahead and choose the perfect gift to honor the golden milestone of the special couple in your life. Let them know how much their love inspires you and how grateful you are to have them in your life.
Thank you for reading our article on gift ideas for a 50th wedding anniversary. We hope it has been helpful in your search for the perfect golden anniversary gift.